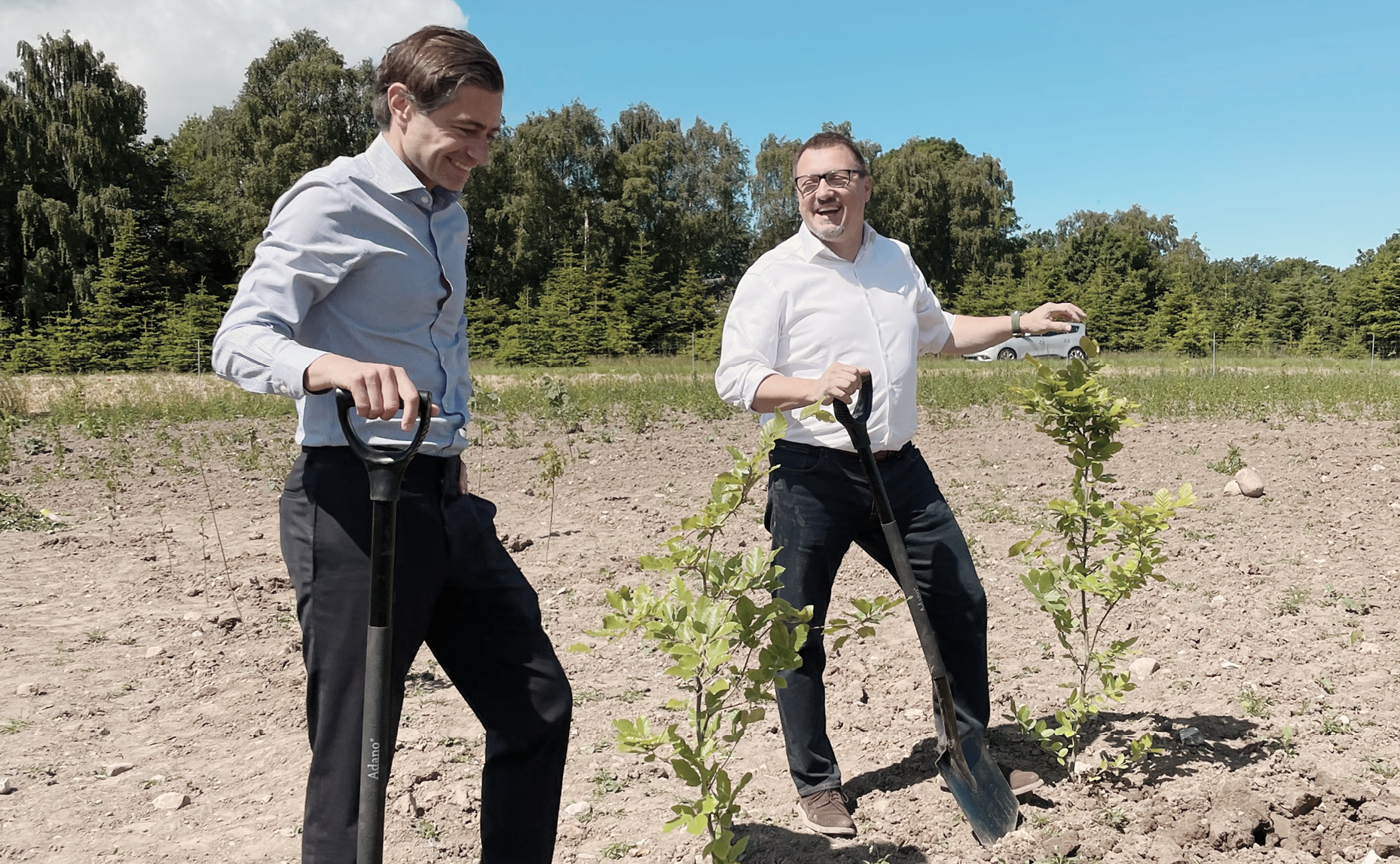 ALD Automotive and NF Fleet take further actions to reduce their CO2-emmissions
ALD Automotive and NF Fleet have established a new internal car policy. This means that from now on, employees with company cars can only choose green cars. Furthermore, ALD and NF Fleet will contribute with carbon capture by planting trees in collaboration with EcoTree, thus actively removing CO2 from the atmosphere and reducing their CO2-emmissions.
ALD Automotive and NF Fleet seek to become leading providers of sustainable mobility solutions. As some of the largest business car leasing corporations in Denmark, ALD and NF Fleet acknowledge that their businesses have a negative influence on the CO2-emmisions in Denmark, which is why they have been fully invested in creating sustainable mobility solutions for their clients and pushing towards green transitions over the last couple of years. Therefore, they also want to lead the way in this movement.
ALD and NF Fleet have chosen to change their internal car policy for all employees, meaning that all new company car agreements will only include green cars.
Further actions make a greener Denmark
By changing their internal car policy, ALD and NF Fleet seek to minimize their fleets' CO2-emmisions significantly. However, this change will not happen overnight as the cars in their current fleets need to be phased out. Therefore, ALD and NF Fleet have in collaboration decided to partner with EcoTree to contribute to the removal of CO2 by planting trees in Denmark, which benefit the environment, the biodiversity, as well as the groundwater.
"As a major player in the automotive industry, ALD Automotive has a responsibility in leading the way towards a greener mobility. Hence, I am pleased and proud to announce that we are entering into an agreement with EcoTree, whereby planting trees in Denmark, we are aiming at neutralizing our company cars' and pool fleet's CO2 emissions over time."
CEO, Hadrien Boisseau, ALD Automotive
Based on the collective carbon footprint of their fleets, ALD and NF Fleet will this year plant 970 trees in outside of Kalundborg and Aarhus, Denmark. The number of trees will be recalculated every year based on their CO2-emmisions, which will decrease more and more until the new green car policy is fully executed.
Planting trees is not a solution with immediate effect. Nevertheless, ALD and NF Fleet view this as an important action, which will contribute positively to the Danish nature until they have reached their final goal.
"By providing sustainable mobility solutions along with changing our internal company car policy, our goal at NF Fleet is to minimize and reduce our CO2-emmisions. When we, by planting trees and adding more forest in Denmark, are helping the Danish nature as well as absorbing CO2, we know we are doing the right thing"
General Manager, Michael Stig Nielsen, NF Fleet.
Is your company ready to become greener?
EcoTree is a full-service sustainable forestry company on a mission to plant and grow millions of trees in biodiverse and sustainable forests across Europe. Through the collaboration with EcoTree, ALD and NF Fleet take ownership over the trees they plant and can follow the evolution of their forest and its carbon capture. Thereby, they are creating a greener fleet based on their compensation as well as contributing to a greener Denmark.
If your company wish to know more about EcoTree and how to get started, you can read more about it here.