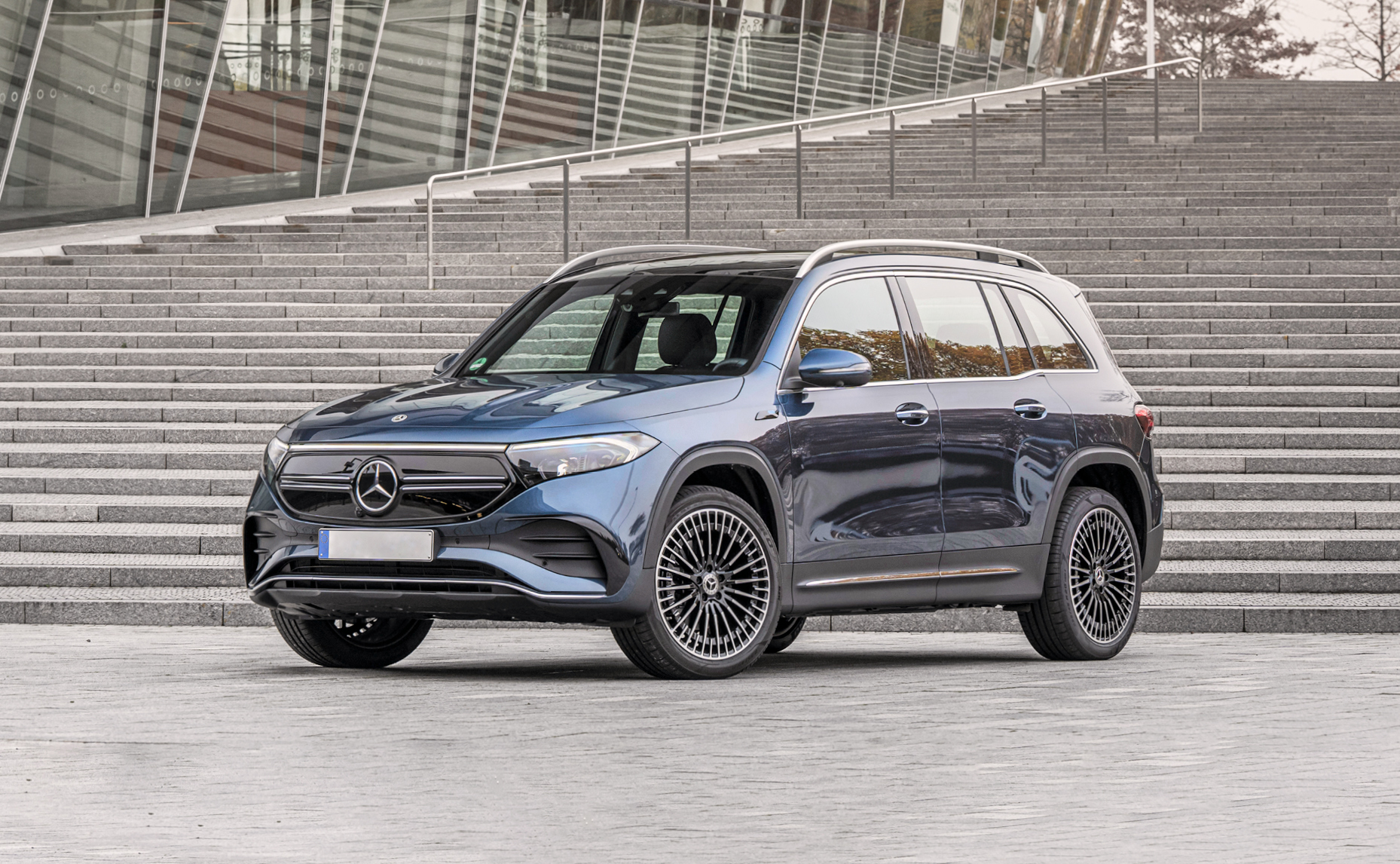 Mercedes-Benz EQB: Fully electric seven-seater SUV
The new Mercedes EQB is the first fully electric seven-seater SUV in the premium class but is also available as a five-seater. Therefore, it is an optimal choice for both big and small families. The car is very practical because of the equipment and spaciousness, but it also has a sublime design – and you can drive it with a clear conscience.
The car has a reasonable range up to 420 km, 0-gram CO2-emission, and a charging time around 32 minutes when using a quick charger.
Whether you choose the seven-seater or five-seater version, the model comes with an adjustable second row of seats and length and width can be adjusted as well. Therefore, you will get a practical car where the space between the backseat and the trunk can be adjusted according to your personal preference. Furthermore, the third row of seats can easily be folded at the bottom of the trunk if it is not being used. The vehicle has a spacious trunk with a capacity of 495 to 1,710 liters or 465 to 1,620 liters, which depends on whether you ordered the five- or seven-seater car.
A characteristic detail that defines the EQB and other models from Mercedes-EQ is the light stripe, which connects the head- and taillights. Inside the cabin you will find environmental lighting with 64 colors, digital instrumentation with two large 10,25" touchscreens combined in one Widescreen Cockpit. Within the digital elements, you can find the intelligent MBUX-system with Electric Intelligence navigation, which optimizes the electric range and charging process.
The EQB is from the Mercedes-EQ line and has an elevated level of equipment, which includes LED High Performance headlights with automatic high-beam assistant, a parking package with censors in the front and back, an integrated rear camera and 18" aluminum wheels.
The base tax for a Mercedes EQB starts at DKK 429,000.
Should Mercedes EQB be your next company car?
We, at NF Fleet, want to create a more sustainable future with you and that journey starts with NF Fleet Electric. NF Fleet Electric offers sustainable mobility solutions and Green Funding of electric company. In this way, we can help you and your company on the path of green transition.
Read more about NF Fleet Electric here.
In need of help? Our experts are always here for you and can guide and advice you, so you can make the best choice. Find contact information here.