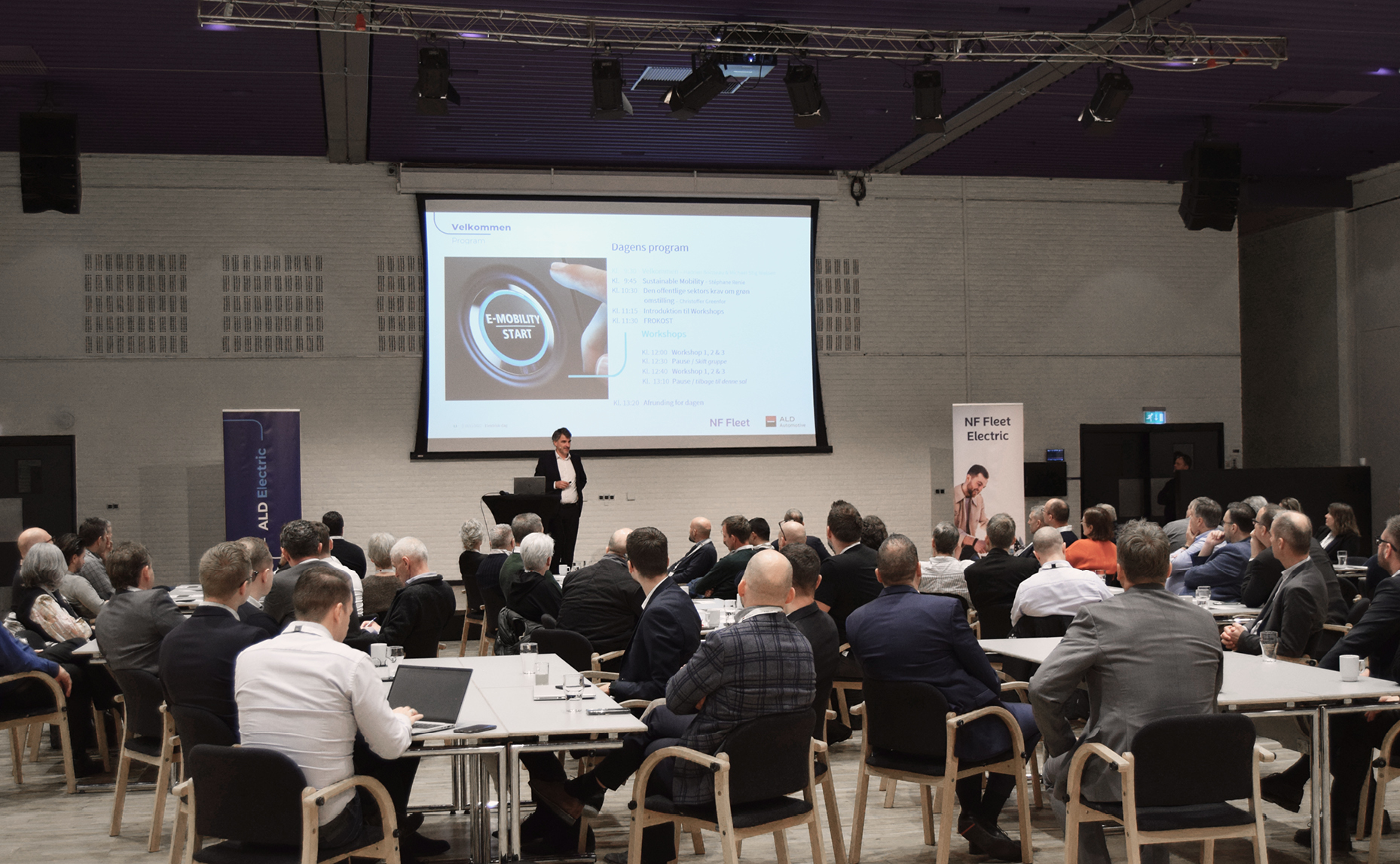 Great interest in Electric Day
We would like to thank you for the great interest in Electric Day 2022, which was held November 18th at Odense Congress Center in collaboration with out parent company, ALD Automotive.
The focus of the event was sustainable mobility, and the participants were able to hear Stéphane Renie, Head of CSR at ALD International, who shared his insights regarding sustainable mobility. He talked about the biggest trends in the mobility industry in Denmark and worldwide, as well as how fleets play an essential role and must therefore be in the forefront of investing in electrical cars, due the urgent climate challenges. In addition, we had the pleasure of having Christoffer Greenfort, Chief Analyst for Transportation and Infrastructure at The Danish Chamber of Commerce, at the event and he spoke about the public sector's demands regarding the green transition in Denmark.
Read more about sustainable mobility here.
Great interest
"The purpose of Electric Day is that we would like to tell our customers more about the green transition, and thereby get them ready to transition. I think that the day went very well. There are a lot of numbers, but it is also what supports the need for the green transition. We can document with data that the green transition is necessary and already underway," says Mads Vandborg, Sales Manager at NF Fleet.
The participants were involved via. three different workshops, which focused on infrastructure and intelligent charging, electric vans, and green car policies. All the workshops delved into different topics with a focus on ensuring that participants would be able to make considered decisions when incorporating green cars or vans into their company fleet.
Participants showed great enthusiasm
With Electric Day, we wanted to give the participants insight into sustainable mobility and how it is developing. Via. the lectures, debates, and workshops there was also a focus on the participants being able to leave the event with concrete tools that could help their company fleet in a more sustainable direction. Furthermore, there was a great demand and interest in hearing more about the practical side of green mobility:  
"Definitely a positive experience to be part of today. A wonderful day with lots of good inputs and lectures," says Barbro Falck, who was one of the participants.
One of our primary goals at NF Fleet is being able to contribute to making the next choice of a green company car easier for our customers and aiding through counseling and expertise. We are overjoyed by the positive feedback and that the customers know they can get help regarding the day-to-day of having a green company fleet.
Do you and your company want to take part in the green transition by choosing a more sustainable car policy? NF Fleet is always ready to help you on your way. Contact our counsellors at nfsalg.dk@nffleet.com or on +45 88 44 40 00.