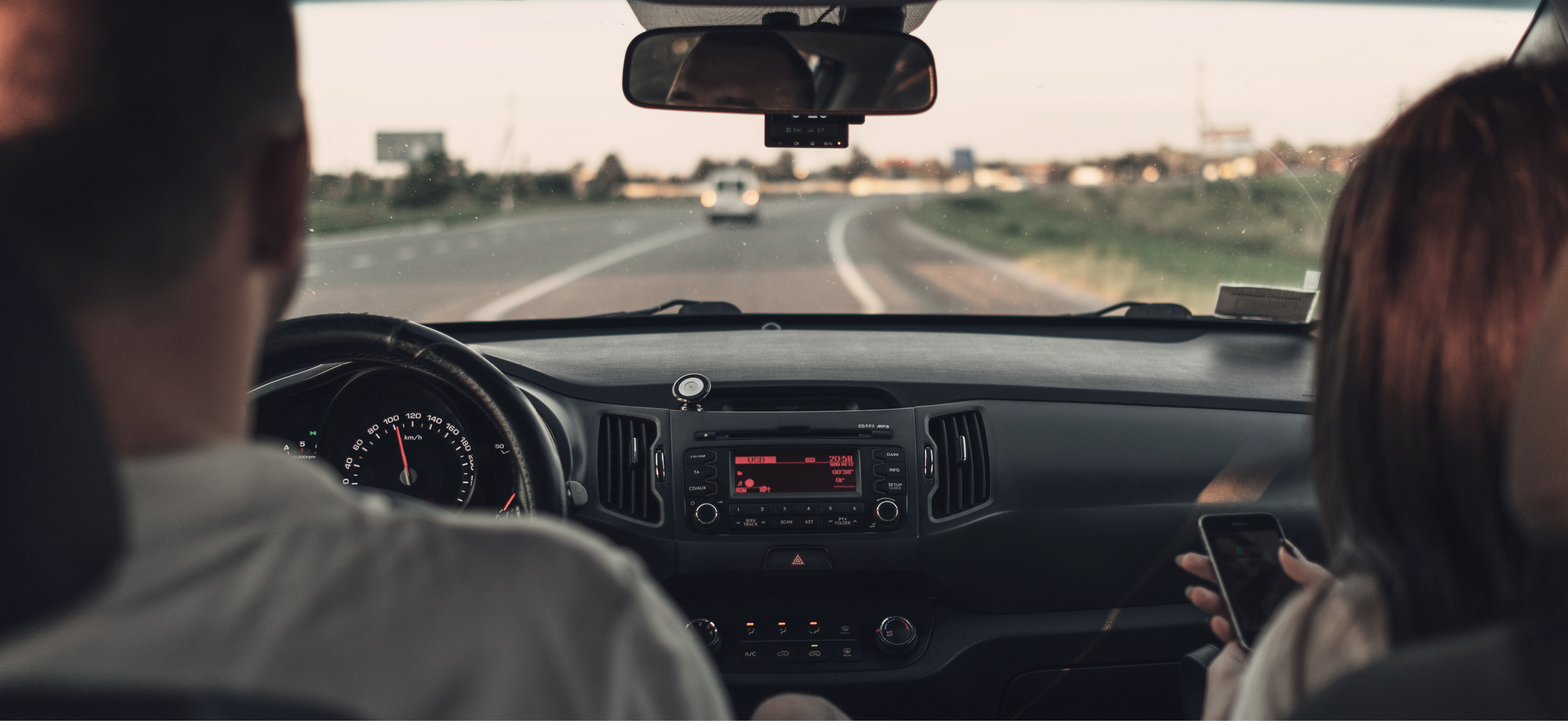 Driving abroad
If you are going on a trip abroad on holiday or on a business trip, it is a good idea to research well in advance what you need to remember of documents, rules, and other things before departure. We have put together a checklist below and made it easy for you.
Checklist for driving abroad
Moreover, if you are planning on going abroad with your car, always remember to bring the following documents:
Part 1 of your registration certificate
Red card
Green card
Read more here
Vehicle Registration Certificate
If you are going to drive abroad, you must remember to bring Part 1 of the original vehicle registration certificate. This documents the vehicle's registration to foreign authorities. You can order Part 1 of the vehicle registration certificate via My NF Fleet. However, please note that there may be up to three weeks' wait for the issuance of a new vehicle registration certificate from SKAT in the high season.
If you are going abroad before you have received the vehicle registration certificate, you can apply for a time-limited vehicle registration certificate, which allows you to use the car for driving abroad before you receive the original vehicle registration certificate. You order a time-limited vehicle registration certificate by contacting NF Fleet to request a power of attorney for your application. Subsequently, you must appear in person at a tax center with the power of attorney as well as an ID showing your employment relationship. The tax center will subsequently hand over the time-limited vehicle registration certificate, which costs DKK 100.
Remember not to leave the vehicle registration certificate in the car.
Damage or engine stop abroad
When experiencing damage or engine stop abroad, please contact SOS International on +45 70 10 50 52. You can also visit SOS International's website and read more about the conditions. Remember to state that your car is insured through NF Fleet. 
When do you not need to contact SOS abroad?
If you get a glass damage, you must contact Carglass on tel. +45 43 22 99 95, who will take care of the further process
If it is a matter of a minor damage that can be repaired within one working day, e.g. puncture, starting problems or towing, you must contact Falck Roadside Assistance on tel. +45 80 24 00 00
In the case of a minor repair, where you expend the cost yourself, remember to save the receipt. When you return home from abroad, you must send the receipt to the insurance department in NF Fleet at forsikring.dk@nffleet.com with a short explanation
The legal liability insurance of your motor vehicle applies in all EU/EEA countries. This means that you can drive freely in all of EU/EEA when the motor vehicle is provided with a valid Danish license plate.
The license plate in itself is a proof that your motor vehicle has a liability insurance. Therefore, it is no longer necessary to bring the green card when driving within the borders of EU/EEA as well as in Andorra, Bosnia Herzegovina, Montenegro, Serbia, and Great Britain.
However, there are still countries outside of EU where you must bring the green card. Find the list of countries here. If you are insured through NF Fleet Insurance and is driving to one of the countries on the list, you can contact us at +45 33 55 80 60 or forsikring.dk@nffleet.com, and we will send you the green card as fast as possible. Is your car insured through another insurance company, please contact this instead.
Glass damage in Europe? Use Carglass Europe Service
Use Carglass Europe Service for fast and efficient assistance if critical glass damage occurs in Europe, e.g. a smashed side window due to a break-in. Less critical damages, e.g. stone chips, will be repaired by Carglass in Denmark when you return from your trip abroad.
Advantages of Carglass Europe Service:
If you have got a glass damage abroad, you can contact Carglass in Denmark directly on +45 43 22 99 95 and explain what has happened
Carglass makes sure that a sister company abroad fixes your car so that you can continue driving. Thus, you do not have to go out and look for a workshop
The quality is top notch and is covered by the Carglass companies' international guarantee
Settlement is made at the same prices as if the damage had occurred in Denmark
You do not have to pay cash at the holiday destination and thus use the holiday currency
Read more about Carglass Europe Service here
Claims abroad
The joint European claim form can be found here. It can be a great help in cases, where one is involved in road accidents abroad. 
Eco-sticker obligation for environmental zones in Europe
A number of cities in Europe can issue driving bans in environmental zones, if the car is not supplied with a special eco-sticker. At FDM you can read more and order the stickers electronically, if you need it.
Requirements to equipment when driving in Europe
A trip through Europe can raise many questions about equipment for the car, because the legislation differs from country to country. We refer to FDM to give you the full overview of what equipment is required by law in the country or countries you have to travel through.
Rules for the use of winter tires, studded tires, snow chains etc. abroad
There are countries in Europe where it is required to drive with winter tires for a given period. If you often drive abroad, or face the annual self-drive ski holiday in Europe, we recommend that you read more about the rules for winter tires, studded tires, snow chains etc. at FDM.